The NSAL – Greater Arizona Chapter is completely volunteer operated. We appreciate the efforts of our current board of directors: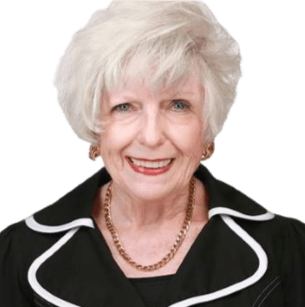 Anne C. White, Ph.D., CFRE, President
Born in Brooklyn, New York, Anne attended universities in New York City and received her undergraduate and graduate degrees in psychology. In New York, she served as vice president of Planned Parenthood Federation of America as a resource to the North Atlantic Region for 52 affiliates.
Subsequent positions included vice president of development for Special Olympics, and associate executive director of the YWCA of the USA working with 4,000 associations across the country. In 1994, the American Cancer Society moved her to Phoenix to help the Arizona Division become a three-state entity – southwest division.
A committed educator, she has served as adjunct faculty to five universities in New York and New Jersey, developed year-long certification programs in fundraising at two colleges in New York, teaches modules in the AFP Five-Year Review Course, and workshops for ASU Lodestar Center for Philanthropy and Nonprofit Innovation.
Anne received her certification as a CFRE in 1987, and AFP Master Trainer Designation in 2011. Working with Experience Matters, she has served as an Encore Fellow since 2011 and worked with nonprofit organizations on governance, fundraising, marketing, infrastructure and change management. Anne currently serves as president of NSAL Greater Arizona Chapter, second vice president of NSAL National, and member of the Policy Council for the Alliance of Arizona Nonprofits. 
Gail Fisher, Secretary
Gail Fisher is an honored community volunteer and award-winning freelance writer, journalist, and author. She was instrumental in the Tempe Center for the Arts (TCA) becoming a reality and founded the Friends of Tempe Center for the Arts.
Gail served as the first chapter president and is a current board member. She produces the popular "TCA Performance with a View" series, sponsored by the Friends of TCA, in partnership with Arizona State University's Herberger Institute School of Music. Gail also assists in the production of  TCA's "Hayden's Ferry Chamber Music Series."
Darlene Kliewer-Britton, Voice Chair
Darleen Kliewer-Britton is Distinguished Professor Emeritus of Music in Voice at Arizona State University having taught there for 30 years.  She also taught voice at the Oberlin Conservatory, and the Summer Opera Program in Florence, Italy.
Before teaching at ASU she came directly from Germany where she sang leading soprano roles with the Flensburg Opera Co.
As a member of The National Association of Teachers of Singing (NATS), Darlene served on the NSAL national board as vice president, overseeing the National Young Artist Awards, and is currently on the NSAL Greater Arizona Chapter board managing the Dorothy Lincoln Smith Award  and the chapter Classical Voice Competition.
Susie Silverman, Dance Chair
Susan Silverman, NSAL-AZ Dance Chair since 1995, has directed and coordinated annual dance scholarship events on local and national levels.  NSAL-AZ Dance winners have gone on to be featured with Alvin Ailey, American Ballet Theater, New York City Ballet, and many other notable companies.
Susan has been the Director of  Dance Theater West Ballet Program and  DTW Story Book Ballet Company since 1990. DTW focuses on classical dance forms in a non-competitive environment. Creator of long time and  far-reaching collaborative  dance events with Scottsdale Arts and  Free Arts for Abused Children as well as touring performances at valley schools and community venues.
As long time DTW  business partner and collaborator with Frances Smith Cohen, Susan was assistant director of Frances Smith Cohen's Snow Queen and a board member of Center Dance Ensemble, Resident Dance Company of the Herberger Theater.
Susan's early dance training and performing experience was in New York City. Later she was a member  of Frances Cohen's Kadimah Dancers in Tucson.  She is a graduate of University of Arizona with emphasis on political science and history and a special certification in dance education. 
Marlene Rausch, Director
Violin soloist, Marlene Rausch, is known in the Valley for her positions as Assistant Concertmaster and Concertmaster of the Phoenix Symphony and Concertmaster of the Arizona Opera and Ballet Arizona orchestras. She was also an Artist-in-Residence for the Arizona Commission on the Arts for several years.
Marlene has performed with many orchestras in the United States, including the Santa Fe Opera, and also in Central America. She was Assistant Professor of Music and Director of Chamber Music Studies at Grand Canyon University.
She serves on the board and artistic committee of the Phoenix Chamber Music Society, is a board member for the Metropolitan Opera National Council – Arizona District auditions committee, and a board member of the National Society of Arts and Letters – Greater Arizona Chapter. Marlene resides in North Phoenix where she teaches violin and coaches chamber music ensembles.
Marilyn Cabay
Coming soon.